Derr Alrunius is the living embodiment of upchogitheriosis.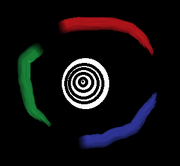 Derr was once a praised scientist, known then as Ryan J. Engiebottom (Son of John P. Engiebottom). After heavy exposure to an unknown toxin, his body was evaporated into a storm of mutant cells.
Derr was formerly a scientist. He now sits in agony at the beginning of the universe. Unable to speak or move, he can only think with his now infinite brain. A brain he can not share with anyone else.
Community content is available under
CC-BY-SA
unless otherwise noted.